Racquetball Canada is committed to work forward and lead in equity, diversity, and inclusion, and stand against any form of racism, discrimination, or harassment on and off the court to ensure all Canadians see themselves represented in our sport.
Racquetball Canada resolves to continue to incorporate inclusion, diversity, and equity matters in its strategies, plans, actions, and operations; including technical programs, business management, sponsorship, marketing, media and communications.
Racquetball Canada will ensure that the organization provides Under-Represented Groups with a full and equitable range of opportunities to participate and lead.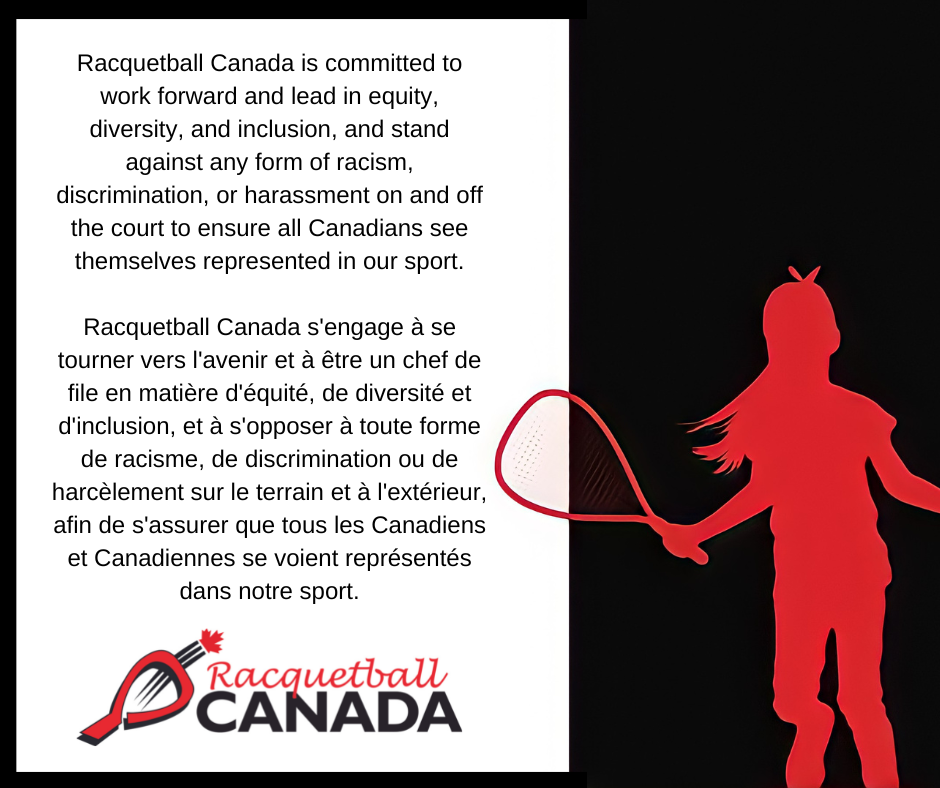 Training
Keeping Girls in Sport Training
Keeping Girls in Sport is an online resource that helps coaches and youth activity leaders to create safe and respectful environments for female athletes that will help girls stay enrolled and engaged in sport and physical activity.
The Keeping Girls in Sport program was created to help everyone who coaches girls, even parents, understand how girls develop physically, mentally, socially and emotionally. When we understand how and why girls play we can help every young athlete stay in sport, reach their potential, and remain active long after the competitions end. Finally becoming the next generation of inspiring female coaches and role models
Click here for further information about the Keeping Girls in Sport program.
Click here to enrol in the Keeping Girls in Sport program.
Gender Equity LENS Module
Whether we realize it or not, each of us looks at the world differently, through different lenses which shape our perceptions, attitudes, and actions. With this new e-module from Canadian Women & Sport, you'll learn how to bring a gender lens to sport and reflect on how your decisions can impact people differently. More importantly, it will help you make policy and program decisions to better serve women and girls.
In taking this e-module you'll build your understanding of key equity and inclusion concepts, learn how embracing gender equity can make your sport better for all involved, and leave with tools that will help you apply a gender LENS in day-to-day decisions. Gender Equity LENS can be used towards NCCP professional development credits.
Gender Equity LENS will launch in the summer of 2020. Click here for more information about this program.
Other Resources
Many excellent resources are available to help coaches, athletes, parents and those who are offering racquetball programs.
As well, there are a number of organizations whose mandate is to advocate for inclusion, diversity and equity. We encourage you to look through these resources for help with how you ensure your programs are welcoming to all.
Canadian Women & Sport
Canadian Women and Sport is dedicated to creating an equitable and inclusive Canadian sport and physical activity system that empowers girls and women within – as active participants and leaders – within and through sport. With a focus on systematic change, the organization partners with governments, organizations and leaders to challenge the status quo and to advance solutions that result in measurable change.
The Canadian Women and Sport website provides many resources like publications, toolkits, case studies as well as learning opportunities in the form of webinars, workshops and e-learning modules. Their resources focus on:
The following is a highlight of what is available on the Canadian Women and Sport website:
Canadian Centre for Ethics in Sport
As an advocate for sport that is fair, safe and open, the Canadian Centre for Ethics in Sport has developed resources for the Canadian sport community to provide information and guidance for the inclusion of trans athletes, and to make Canadian sport a positive space for all athletes. Visit their website section on Sex & Gender Diversity for excellent webinars and publications about transinclusion,
Canadian Sport for Life
Canadian Sport for Life educates and informs sector leaders to enable them to better understand and deliver LTAD, quality sport and physical literacy programming. It is a national not for profit organization that consists of sport and physical literacy experts who collaborate with other Canadian institutions to create a future in which absolutely everyone has access to quality sport and physical literacy experiences. The following are links to key information on their website related to inclusion:
Coaching Association of Canada
The Coaching Association of Canada offers many multi-sport training modules and campaigns that provide coaches with the information and tools to help them be a more effective coach, some of which have a direct impact on a coach's understanding of equity, diversity and inclusion. These include:
Women in Coaching is a directed national campaign to increase the number of coaching opportunities for women at all levels of sport. The Women in Coaching program includes provides women with coaching and mentoring opportunities, access to grants and partnerships and other important resources.
Coaching Athletes with a Disability: CAC has developed resources to help coaches build a positive sport experience for their athletes with sensory, intellectual, physical, or behavioural disabilities. These recourses include the NCCP e-learning module Coaching Athletes with a Disability and detailed manuals to help make programs more welcoming and impactful.
The Aboriginal Coaching Program contains culturally relevant materials meant to engage coaches working with Aboriginal athletes and empower them to make a positive, long-lasting impact in their communities. Resources include a training curriculum of three NCCP Aboriginal Coaching Module that reflects unique Aboriginal culture, values, and lifestyles.
Leading the Way: Working with LGBT Athletes and Coaches is aimed at coaches to help them to ensure a sport environment that is welcoming for all. Coaches play a critical role in creating a sport environment that is safe and respectful for all, regardless of ethnicity, religion, sexual orientation or gender identity.
This Girl Can Is a campaign launched by Sport England to get women and girls moving, regardless of shape, size and ability.
Canadian Paralympic Committee
The Canadian Paralympic Committee provides important frameworks that help organizations shape how they approach creating safe, welcoming and inclusive environments for athletes with a disability. Click here to link to information about diversity and inclusion.
Sport Information Resource Centre (SIRC)
The Sport Information Resource Centre (SIRC) is a committed team of professionals dedicated to advancing Canada's sport and physical activity sector through knowledge and engagement. SIRC takes pride in driving change through research and evidence, and serving as Canada's thought leaders in sport.
The SIRC website provides resources for a wide range of topics, including a section on Gender Equity. Click here to link to resource section on the SIRC website.
Other Organizations & Programs