Hall of Fame Class of 2022
Inducted in May 2022
Hometown: Calgary, Alberta
Category: Athlete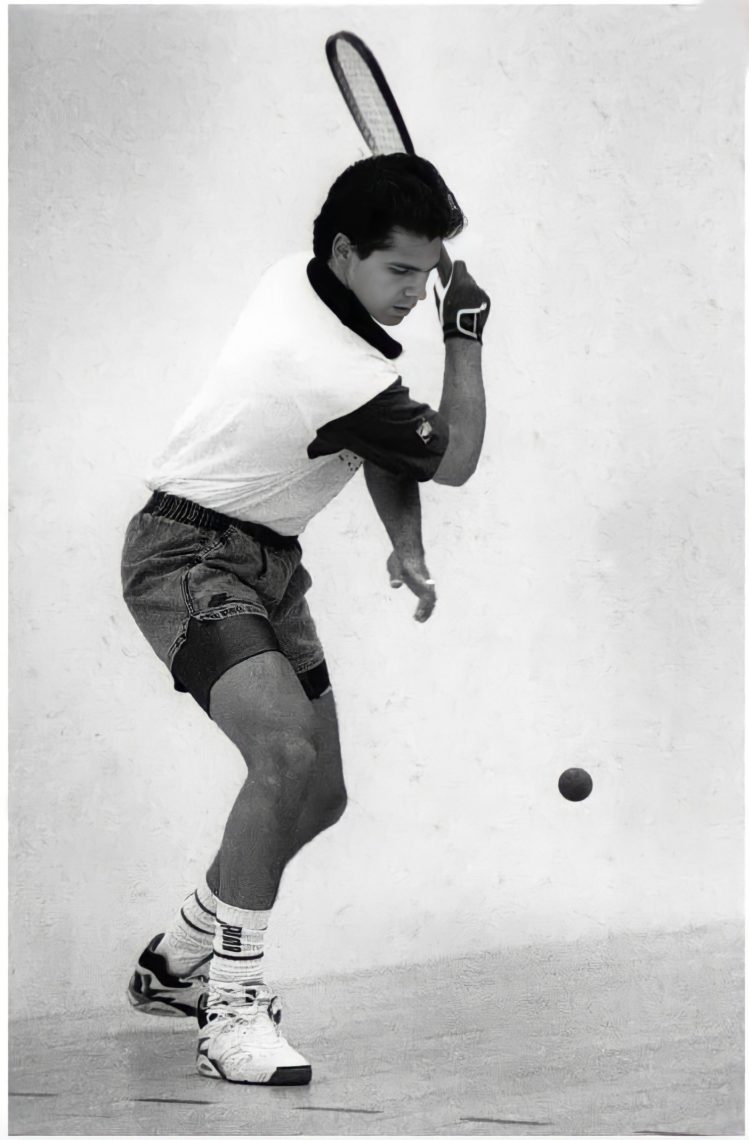 Roger Harripersad's will to win gave him the ability to never fear any opponents, which was one of the key ingredients to his success as a competitor. One must respect the timeline of Roger's success, in the 80's the heart of the most intense and incredibly competitive fields in this country and abroad is where he piled up his podium finishes. His short career is highlighted by a list of exceptional accomplishments:
Only Canadian racquetball athlete to receive the Viscount Alexander Award, recognizing him as the top junior male athlete of the year in 1986
14 podium finishes at the national level including 2 singles titles and 7 doubles
Represented Canada at 11 international tournaments, winning 3 World Championship titles as well as 3 silver medal finishes, and 1 Pan Am Championship Gold medal
He won a silver medal at the 1999 Pan-Am Games 5 years after retiring from the sport
He represented the Men's team in the #1 position in 1986 & 1988 where the Men's team won gold, and the Canadian Team shared overall gold in 1986
Only Canadian male to win the USRA Intercollegiate Championships
Defeating the United States as a team at the World Championships, as well as Roger's tremendous results as part of the national doubles team will not be matched. In addition to his personal accomplishments, the level of teamwork and the emotional and mental support Roger provided to his teammates was a major factor in Canada's overall international success.
Roger proved his talents not only in Canada but on the highly regarded United States Professional Tour. Roger defeated legends like, Marty Hogan, Mike Ray, Tim Doyle, Reuben Gonzales and Ed Andrews at a time when these players were top 3 on the tour.
Roger left no stone unturned in his quest to be the best player he could be. His level of training exceeded that of most other athletes. He had incredible command of the court in all situations. He was smart, quick, and rangy with immense power. He had no weaknesses and could exploit and dissect his opponents regularly. Only a select few players were equally as great playing singles and doubles as Roger was.
Roger wasn't just one of the most successful Canadian players to have played the game, he also stands out among Canada's top players for time he has given back to the sport and the number of different athletes who consider Roger a major contributor to their success. Leading by example, he taught many players, including numerous athletes who went on to achieve national team success, how to escalate their physical training and conditioning. He shared his work ethic, competitive drive and a seriousness about the game that have served those who he mentored both on the court and their personal lives.
Whenever those who are familiar with the heydays of racquetball in Canada talk about the past, there are only a handful of names that are regularly, glowingly brought up. Roger is one of those few names. This is the sign of an enduring champion.
Racquetball Canada is honoured to induct Roger Harripersad into the Racquetball Canada Hall of Fame.
Click here to link to Roger Harripersad's Hall of Fame acceptance remarks.
1999
 Pan Am Championships: SILVER – Men's Doubles
National Championships: GOLD – Men's Open Doubles
1998
National Championships: GOLD – Men's Open Doubles
1992
World Championships: SILVER – Men's Doubles
Pan Am Championships: GOLD – Men's Doubles
National Championships: SILVER – Men's Open Singles
National Championships: GOLD – Men's Open Doubles
1991
National Championships: BRONZE – Men's Open Singles
National Championships: GOLD – Men's Open Doubles
1990
National Championships: SILVER – Men's Open Singles
National Championships: GOLD – Men's Open Doubles
1989
National Championships: GOLD – Men's Open Singles
National Championships: SILVER – Men's Open Doubles
1988
World Championships: GOLD – Men's Team
National Championships: GOLD – Men's Open Doubles
1986
World Championships: SILVER – Men's Singles
World Championships: GOLD – Men's Team
World Championships: GOLD – Overall Team
USA Intercollegiate Division 1 Championships: GOLD – Men's Singles
1985
World Games: SILVER – Men's Singles
National Championships: GOLD – Men's Open Singles
1984
National Championships: SILVER – Men's Open Doubles
1983
National Championships: GOLD – Men's Open Doubles
Sportsman of the Year (Presented by the International Racquetball Tour)
Fair play and sportsmanship on and off the court (1987)
Viscount Alexander Award: (Presented by the Sportswriters of the Canadian Press) 
Canadian Junior Male Athlete of the Year (1986)
Sportsman of the Year (Presented by the Canadian Professional Racquetball Organization)
Fair play and sportsmanship on and off the court (1986)